Forget spending thousands of unnecessary dollars on a professional laser hair treatment to remove unwanted hair when you can do it from the comfort of your own home, completely pain free! For only a fraction of the cost, now you can have permanent hair removal at your own convenience without the pain & hassle of going to the clinic. We all know how annoying it is to try to get rid of unwanted hair only to be greeted by it a day or two later... That's why we've spent countless hours developing the solution to those useless razors. Say goodbye to razor burn and ingrown hairs for good with our brand new Hair Removal Handsets! 
PuriSpa Laser Hair Removal Handsets designed to deliver long-lasting visible results in just 3 weeks, full-body treatments can be done in 30 minutes or less, just once per week. This device is supercharged with 14+ years of flashes when used as recommended so you won't be seeing those bothersome hairs for years to come! Works on any body part including the face and Brazilian area. Your handset will utilize clinical-grade technology that is certified for safe and effective at-home hair removal. This fan-favorite little handset has changed the lives of over 95,000 people around the world and it can change your life too!
Reasons To Love This IPL Laser Hair Removal Handset
Stops hair re-growth in just a few sessions. 
Works for any body area (including face & brazilian).
Clinically proven safe and effective.
100% pain-free - gentle on the skin.
Works within minutes to remove hair after just one use.
One time purchase - no need for refills or recharges. 
30 day money back risk-free guarantee. 
Safe for at-home use.
Suitable for both men & women.
5 Adjustable light settings.
Easy to use & operate.
Time saving & cost-effective
Safe for all skin types.
How Does It Work?
The IPL laser utilizes clinical-grade technology that is certified for safe and effective at-home hair removal. Light energy from IPL is absorbed by the melanin in the hair, which then turns to heat and destroys the hair cells. This causes hair regrowth to slow down significantly after each treatment. With visible results in just 3 weeks, and full results within 12 weeks. It's gentle enough for everyday use and it won't cause irritation at all! There have been numerous clinical studies conducted that demonstrate the safety and effectiveness of IPL for hair removal. It's time to stop shaving, plucking, waxing and threading for good!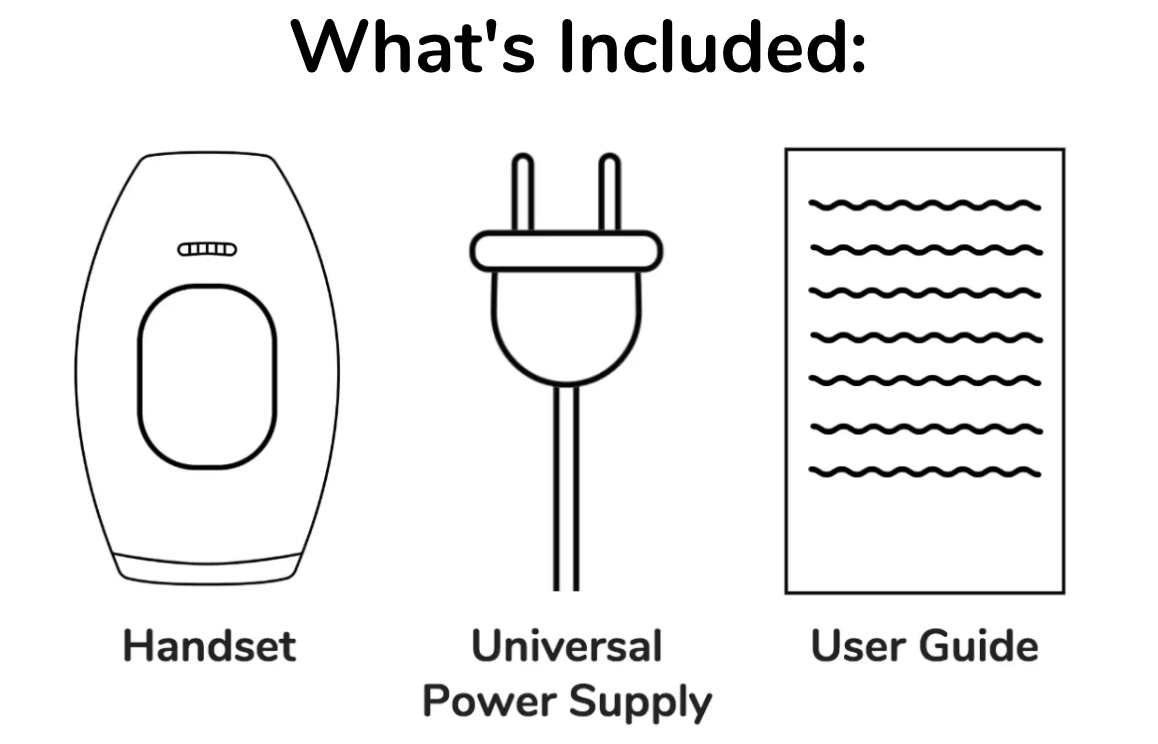 Directions
1. Clean and shave the skin area you will be treating.
2. Connect the device to the power supply and turn on the device by pressing the button once.
3. Adjust the intensity level. Press the power button again to increase intensity (up to level 5). Always start on level 1 to test your sensitivity.
4. Place the device head flat against the skin and press the big button on the front to flash. 
5. Repeat 1x per week, for 12 weeks for best results. (You may go over each area 1-3 times.)
6. Enjoy your laser hair removal experience
7. To maintain hair-free skin, use once every 2-3 months.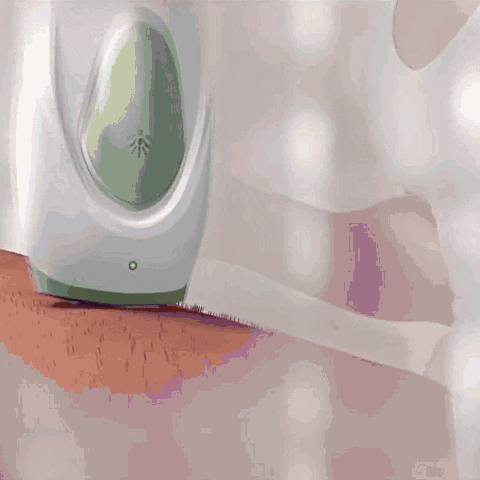 FAQ
Q: How long does it take to see results?
A: Most customers begin to notice a reduction of new hair growth after just 3-4 treatments, with complete results after 12 treatments. However, results vary from person to person.
Q: What is IPL technology?
A: IPL stands for Intense Pulsed Light. This new technology aims to remove unwanted hair, slow the aging process by reducing wrinkles and perfect the skin tone by treating blemishes. It can also increase collagen production in the skin, leaving you glowing from the inside out!
Q: How does it work though?
A: IPL is a form of light therapy. It emits a series of different wavelengths that scatter within the skin reaching various depths. Depending on its use, it will provide the user with the desired results - whether that be reduction of blemishes, pigment, wrinkles or hair! It is a very versatile technology.
Q: Where can this be used?
A: You can use your handset on your entire body, including your Brazilian and face (just be sure to not get too close to your eyes) 
Q: Who can use this device and is it safe?
A: There have been numerous worldwide studies that demonstrate the safety and effectiveness of IPL for hair removal. We always advise that you exercise caution when treating yourself as not everyone is suitable for IPL treatments. Due to the level of melanin in the skin, some darker skin types will not be able to use IPL. The same applies if you have a recent sunburn.
Shipping & Delivery
All orders are professionally packaged, prepared, and dispatched within 3-5 business days. We currently offer Fast & Free worldwide shipping on every order. The typical delivery time frame is anywhere from 10-20 business days. Depending on your location, you might receive items much earlier. Please check our complete shipping & delivery policies here. 
Tracking numbers will be automatically sent as soon as the order is shipped. Sometimes there might be additional delays that are beyond our control such as customs or postal delays. Thank you for your understanding! 
Our Guarantee
We offer a 30-day risk-free guarantee. If you aren't satisfied with your product for any reason, you have up to 30 days after receiving your product to contact us and ask for a full refund.  
If you need any assistance with your order, please contact us immediately at support@shoppurispa.com We will not be able to make changes to your order after it has shipped.